Artistic design turns a business building into innovation
A new building with glamorous exterior is standing near Sinyongsan Station in Seoul, creating an overwhelming view around the district. the geometric exterior made of fins in various sizes whose color seems to change from different angles create unique dynamism, which confers a distinguished presence on the structure. It is the new building for Amore Pacific built by Hyundai E&C. The aluminum curtain wall consists of 4.5- to 7-meter-long 21,500 fins weighing 3, 300 tons in total, which is the country's largest amount fabricated and built in one year of construction period.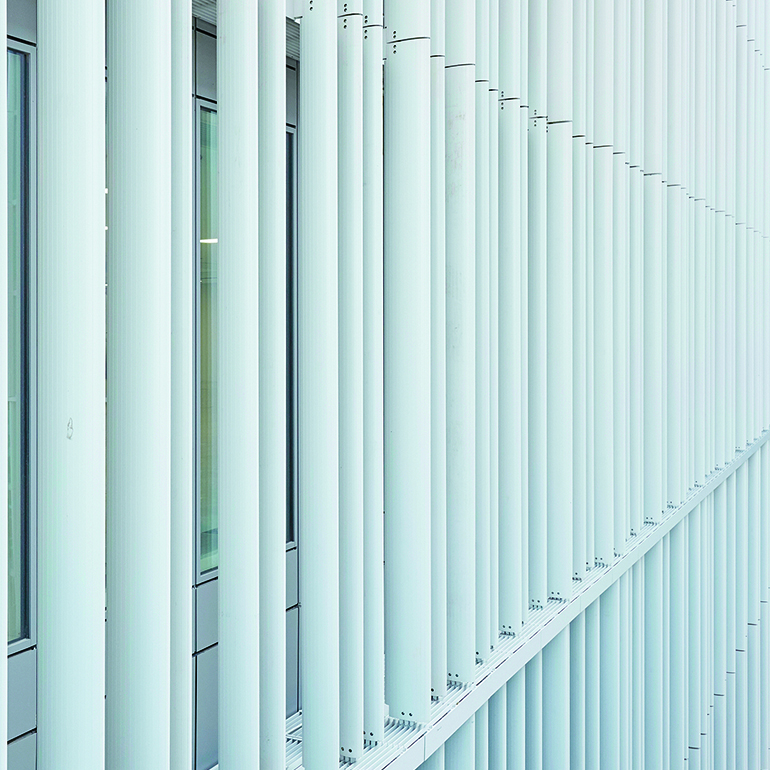 In the lobby, gray exposed concrete structures, a high floor height of 18 meters, and an atrium covered with grid glass boast the imposing interior and refined beauty. On the fifth floor is a garden decorated with maple trees. Moreover, 1,176 solar panels producing 363kW of electricity were installed on the roof, enabling the building to reduce electric bill.

David Chipperfield, a globally renowned English architect, was responsible for designing the building. Hyundai E&C started the construction in August 2014. The 535.5-billion won project designed to build 22 stories above ground and 7 basement levels was completed in 38 months.
One of the biggest challenges facing the construction site was to produce high-quality exposed concrete. To make the surface smooth, highly precise work and advanced quality control were required during mold making and concrete placement.
The construction site put a top priority on understanding the quality level of exposed concrete required by the Germany-based design company DCA and the client. Based on the understanding of the requirements, the construction site made continued efforts to keep up with them by providing compulsory education courses for all workers as well as employees of Hyundai E&C. The application of full-scale mockups to all areas where exposed concrete is used, such as columns, walls, ceilings, railings and stairs, increased the satisfaction of the client and the design company.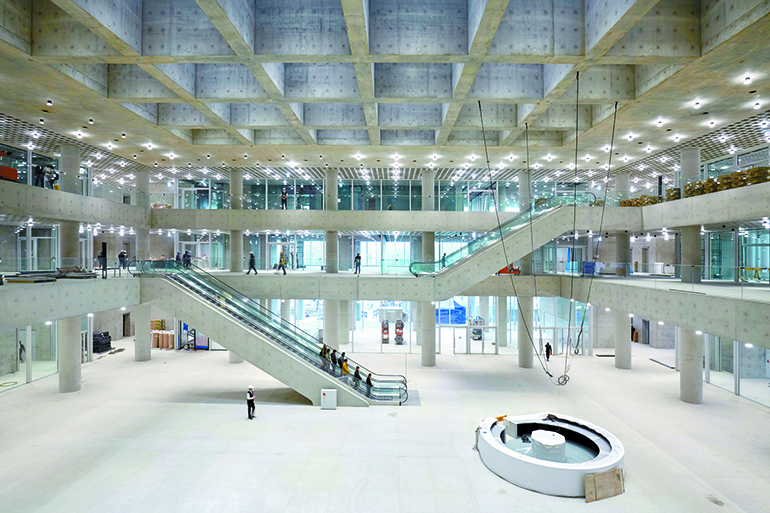 Another obstacle to meeting the tight schedule was to coordinate the solely design-centered approach with DCA. Throughout 38 months of the construction period, employees of Hyundai E&C visited DCA's office in Germany 28 times to present samples and mockups, make the design company understand reasons why the design is not constructible, and suggest solutions to the problem.
The relentless and devoted efforts of employees from Hyundai E&C and its subcontractors have turned the original design into reality. As a prominent landmark, the new Amore Pacific Building is expected to bolster the reputation of Korea's primary builder.