▲ First Korean company to sign MOU on developing a new smart city in Ha Nam province, south of Hanoi, Vietnam
… Will pursue smart city development project jointly with Vietnam's development company Bitexco
… A mega project of 1,524ha in scale including eco-friendly high-tech industrial facilities and service infrastructure
… Contributing to creating added value and quality enhancement by providing technology support including pre-construction service
▲ Expanding exports of K-smart infrastructure overseas by leading global eco-friendly smart city projects
… Aim to lead entering overseas with K-smart city by leveraging the Vietnam city development project as a steppingstone
… To create synergy effect by actively utilizing group's smart technologies such as mobility, robotics, and platform
… Will secure competitiveness in establishing forward-looking urban infrastructure and accelerate core strategic projects
Hyundai E&C plans to pursue an eco-friendly smart city development project in Vietnam, leading efforts in exporting K-smart infrastructure overseas.
On the 29th (local time), Hyundai E&C became the first company in Korea to sign a memorandum of understanding (MOU) on 'Ha Nam Eco-Smart Urban Living Tomorrow City,' a project being pursued by *Bitexco and Ha Nam province in Hanoi, Vietnam.
* Established in 1985, Bitexco Group is a key private-sector development company that has pursued to diversify its projects by implementing various property development projects of landmarks in key regions of Vietnam including Hanoi and Ho Chi Minh City as well as managing hydroelectric power plants and solar power plants.
Around 40 key officials of both companies including Hyundai E&C CEO Yoon Young-Joon, Korean Ambassador to Vietnam Park Noh-Wan, Bitexco Chairman Hoi, and CEO Ray Ho as well as high-ranking officials of the Vietnamese government attended the signing ceremony that was held at JW Marriott Hotel located in Hanoi, Vietnam.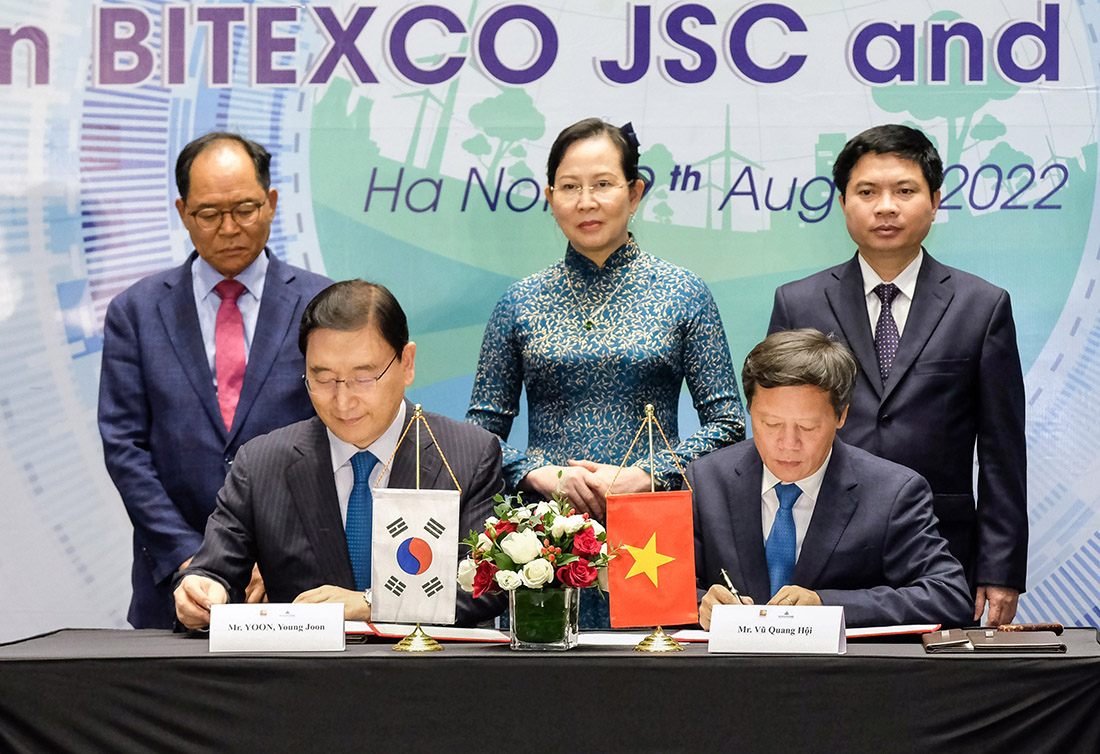 [ Photo of signing the MOU on Ha Nam Eco-Smart Urban Living Tomorrow City. The signing ceremony was held with key members attending the ceremony including Hyundai E&C CEO Yoon Young-Joon (front left) and Bitexco Chairman Hoi (front right). ]
The project Hyundai E&C will join is a project that will create a smart city leading district in the new city of Ha Nam province located about 50km south from the country's capital, Hanoi. The project will also establish and manage smart services. The Vietnamese government designated 9 surrounding provinces including Hanoi, Ha Nam, and Vinh Phuc as the Hanoi metropolitan area in 2016 and announced a Hanoi development plan that accommodates a population of 22.9 million by 2030 by designating about three times the size of the previous capital for the development of a new city. Hyundai E&C will join the smart city development project and jointly pursue the large-scale mega project that amounts to a total of 1,524ha that includes the 'Hi-Tech Zone (about 663ha)' comprised of R&D centers, offices, commercial facilities, and smart logistics centers as well as the 'Urban Zone (about 861ha)' comprised of residential areas and service infrastructure. The two companies agreed on the MOU to jointly pursue the eco-friendly smart city project led by Bitexco as well as Hyundai E&C's contribution to creating added value by providing technology support such as pre-con service.
* 1ha= 10,000㎡

Hyundai E&C built the Bitexco Financial Tower, a skyscraper of 68 floors and 262m in height, at Ho Chi Minh City, the center of Vietnam's economy and culture, in 2010. It also successfully implemented various construction projects including the Mong Duong 1 Thermal Power Plant and JW Marriott Hotel Hanoi, establishing a deeply trusting relationship with Bitexco Group. Hyundai E&C has laid the foundation for a close partnership by preemptively expanding its offices in Vietnam to enhance its project capability as a partner to Bitexco. As a result, the company successfully achieved in joining Bitexco's smart city development project, while at the same time, laid the foundation to partner with Bitexco in its future new projects. Hyundai E&C is expected to create new growth engine by expanding its partnership further into private-sector construction projects in Vietnam. Hyundai E&C will join the project from its basic design stage and create synergy effect by actively utilizing smart technologies related to the group such as mobility, robotics, and platform. It aims to leverage the urban development project as a steppingstone into leading overseas exports of K-smart city as well as pioneering the construction of future-oriented people-centric urban community.
Hyundai E&C CEO Yoon Young-Joon, who attended the MOU signing ceremony, said "we aim to contribute to building a people-centered future city where the environment and technology coexist in harmony through our strategic collaboration with Bitexco, which is leading city development projects in Vietnam" and added, "starting with this project, which will become a monumental cornerstone of smart city development projects overseas, we will strengthen our status as a Team Korea leading company in expanding the export of K-smart infrastructure and accelerate our core strategic project of establishing smart cities around the world."
*Bitexco
Starting as a small textile company in Thai Binh province in northern Vietnam in 1985, Bitexco became one of the nation's leading investment and development companies in 30 years, implementing projects in various areas including production of drinking water, property investment and trade, and the construction and development of hydroelectric power, solar power, and transportation infrastructure.
Starting with the successful construction of Bitexco headquarters in Ho Chi Minh City, it has successfully constructed landmark buildings including The Manor, the Bitexco Financial Center, and JW Marriott. It is currently constructing new landmarks such as The One Tower and Nguyen Cu Trinh Centre in Ho Chi Minh City and investing in various projects including urban development such as the Thanh Da New Urban and The Manor Central Park.